Lincolnshire Show - Spirit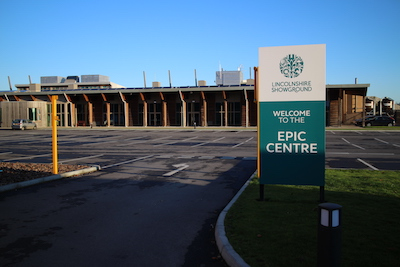 Therapies
Gill Moore Spiritual Healer
Experience spiritual healing - taster or full session - non invasive, seated therapy.
Exhibitor Profile
Janine Love - Reiki Gift
Janine is a Reiki Practitioner of many years standing. She has travelled the World with her work. Janine works with a simple approach, she makes no claims. Her work is based in love and giving.
Website
P & G Underwood ~ Glenys & Philip Underwood - Anahata
Philip and Glenys run The Anhara Centre. Philip is a recognised as one of the countries finest NLP trainers. Glenys has an enviable following of clients for her therapies. For those who are interested in gaining vocational qualifications in holistic health spend some time talking to Glenys or Philip.
Philips Website
Glenys Website
Positive Resonance ~ Carole Ann Catterall
Chakra Healing Therapy - plus handcrafted chakra & mandala cards and artwork and chakra corresponding coloured bracelets.
Email - Carole
Pure Holistics ~ Michelle Durrant
Grimsby based Holistic practice offering - Indian Champissage head massage, reflexology, reiki, hopi ear candling.
Exhibitor Video
SJ Therapies ~ Sue Jones
Colour Mirrors System Therapies
Email
Sutton Healing Centre ~ Elaine Chadbourne
Relaxing Reflexology and Reiki treatments and taster sessions.
Exhibitor Profile
Tampara Seated Therapies ~ Paul & Tamra
Indian Head Massage, a traditional therapy which has been practiced in India for over 1000 years, non invasive seated accupressure massage to relax aches and pains and induce relaxation and feeling of well being.
Exhibitor Profile
JS Natural Therapies ~ Jacqueline Seddon
The Balance Procedure is a dynamic, life-changing technique that can transform your negative and limiting thought patters into pure positivity. I want - gets! Quick and easy to learn, use it to reduce stress, anxiety and worry so you can reach your goals and feel your best all the time.
Website
Information
Animal Communication ~ Emma Gowshall
Animal Communication and Animal Energy Healing - Emma runs workshops to teach communication with your pets, and how to use dowsing with your pets and animals. A selection of pet and animal related products and gifts are available at the Healing Pets stand.
Exhibitor Profile
Website
Retail
Angelic Fragrances ~ Angie Waudby
Brigitte Rix
Channelling Author ~ Brigitte will be promoting and signing her five published titles.
Brigitte's books are dictated by those in the Afterlife.
Exhibitor Profile
Exhibitor Video
Website
Campbell Wallace ~ Author
Campbell's book 'Second Chance' guides the reader to his incredible life-saving transformation.
Exhibitor Profile
Website
Celestial Treasure ~ Heather Pedley
Unique, individual, handcrafted products and art - made from recycled costume jewellery.
Exhibitor Profile
Website
Crystal Carols ~ Carol Wallace
Crystals, gemstones, rough and worked stones. Crystal jewellery, handmade bracelets, pendants and earrings. Carol teaches 'Melody' accredited crystal healing workshops and courses.
Exhibitor Profile
OiLFACTION ~ Colleen & Mel Frost
We have a range of 70 different 100% pure essential oils and a good choice of pure essential oil blends with our firm favourite being our Insomnia Pillow Spray. We have started our spiritual range of Chakra Sprays which heal, balance and cleanse each Chakra. We also have a range of essential oil accessories, car/room diffusers etc. Please pop by and say Hi!
Website
Email Here
Ethically Gifted ~ Kirstie Wood
Fairly traded, eco friendly, recycled and up cycled gifts, handicrafts & accessories: sun catchers, wall art, wind chimes, Guatemalan worry people, raffia baskets and hats, hippy bags and purses, rag rugs, prayer flags, mosaic ware, batik chakra scrolls... produced from around the world.
Exhibitor Profile
Website
Innerlight Hypnotherapy ~ Peter Wall
Promoting Hypnotherapy Training, Past Life Regression Seminars, Weight Loss Programme and Therapy CDs.
Website
Jane Osborne Author ~ Jane Osborne
Author of 'Exploring Past Lives'. Jane is well respected Past Life Regressionist and brilliant writer.
Website
Joy's Jems ~ Sandi-Joy Pinkney
Hand made gemstone prayer beads, scarf bails and jewellery; scarves and pashminas; salt lamps and bath salts.
Exhibitor Profile
WildKatt ~ Katt Lawrence
Shamanic items, hand painted drums and gifts.
Website
Mel-Jay ~ Melanie Jones
A magpie's delight! Selection of silver and gold set crystal jewellery and fine mineral specimens and crystal carvings.
Exhibitor Profile
Moonlit Pathway Books ~ Annie & Martin Webster
Popular books, tarot cards and oracle cards. Always a bargain to be found and the extensive stock is competitive with internet and high street prices.
Exhibitor Profile
Seraphina Jewellery ~ Marion Clifford
Handmade jewellery from Brazil set with semi precious crystals and stones.
Soul Sisters ~ Sharon Cobham
Retailers of imported items from India, Thailand and Tibet including buddhas, tingsha, brass alter items, prayer wheels & oil burners and incense oils. The magic of the goods, is that The Soul Sisters travel across the world and personally select their stock. Quality is assured.
Email Here
Spiritual Connections ~ Mark Duffin
Unique and Inspiring paintings from an internationally recognised artist.
Readers
Aura Interpretations ~ Kevin Doe
What a fantastic man. You cannot help than be captivated by the kindness and intelligence of Kevin. The feedback we receive about his Aura Interpretations is superb. Kevin used the finest type of aura camera and every reading proves he has spent many years learning about the aura and colour. What an opportunity to have your Aura recorded for the first time. And remember, Auras change so you can review your progress with second, third and fourth photographs each year.
Exhibitor Profile
Website
Barrie John
Barrie is a Multi Award Winning TV Medium, Presenter, Broadcaster, Speaker, Paranormal Investigator and Columnist. He is highly respected for his extensive knowledge and endearing personality.
Exhibitor Profile
Website
Counselling with Cartouche ~ Di Wall
Di is one of our most experienced readers. Her lifetime involvement in the spiritual world is evident in every reading. Her understanding of spiritual concepts and her connections during a reading is amazing. A special lady with an incredible gift.
Exhibitor Profile
Feel Better Fast ~ John Richardson
India Jo Jordan
India Jo is one of our most experienced readers. A wonderful smile and insightful readings conducted with humility and love.
Exhibitor Video
Website
Living With Soul ~ Joylina Goodings
Leigh Rebekah
Mystic Christine ~ Christine Rose
Rick Paul
Rick is a popular and well respected reader. His insightful readings have earned him a stellar reputation.
Exhibitor Profile
Website
Simon Goodfellow ~ Spiritual Medium
To Book a one to one reading with Simon email at his contacts page.
Call Dave on Mobile: 0789 4091702 Office 01302 869051
Exhibitor Profile
www.simongoodfellow.com