Lincolnshire Show - Talks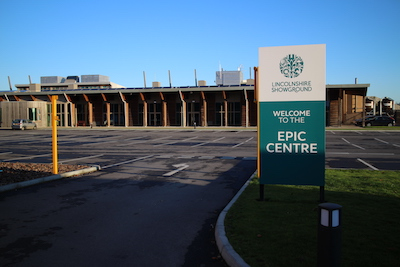 Saturday 2 June ~ Room 1:
11.00: Peter Wall ~ Academy of Clinical Hypnosis

Facing a Career Change - Consider Hypnosis
Are you bored with your current job? Are you fed up with same old routine? Does your current job leave you frustrated? Would you like to help people and at the same time be your own boss? Then becoming a Clinical Hypnotherapist could be the answer. Peter Wall, a Clinical Hypnotherapist for over 17 years is combining his skills and experience during those years to now teach and train people who may wish to consider a career change or to add Hypnotherapy to their bow. This talk will give you a brief insight into Hypnotherapy, its benefits, and becoming a Clinical Hypnotherapist.
(Courses are fully accredited by the National Council of Psychotherapy.)
12.00: Noel Hogan ~ author 'Spiritual Sat Nav'

Noel's is the author of the book 'Trust your Spiritual Sat Nav'
The book takes a forensic look at the relationship between the self and the way society influences you, preventing you from living your life and being who you should be. Noel takes the audience through the purpose of the book and explains the benefits.
1.00: Robert Hawk ~ Hawk's House
All you want to know about CBD oil
In this presentation, Robert dispels the myths, using the real facts, and clarifies just what is CBC oil - removing the confusion and confirming the legality and ease of use. As the product grows in popularity amongst patients asking for more natural remedies, there is often confusion about what is CBD Cannabis oil? Can I buy it? How do I use it? Which Colour and how many drops? Which strength for which condition? Join Robert Hawk for the answers to these questions.
2.00: David Schofield ~ Ethical Organiser

How To Build Your Business and Help More People
David is a holistic business coach, who is driven to support purpose-driven entrepreneurs to impact as many lives as possible. Through his own journey, he realised the common pitfalls that are faced by purpose-driven entrepreneurs and what to do about them. In this talk, David will illuminate what's really going on for you, taking all of you into account, whilst offering some 'gob-smackingly' simple solutions for how you can take your business forward.For more information about David's work, visit: www.EthicalOrganiser.org
3.00: Steven Blake ~ OldPain2Go

Transform Your Life on Automatic
We all know what the "right things to do" are. The fact that we don't then do them shows that our conscious efforts are somewhat lacking. We need to deal with the new ways of living our life at the level the old learning's live at. Steven will explain how to remove our old mental programs and replace them with the new desired ones.
4.00: Rick Paul ~ Spiritual Medium

I am just me
My journey, my desire to inspire - leading to communications with spirit
Saturday 2 June ~ Room 2:
11.00: Kevin Doe ~ Aura Interpretations

All About Auras
During this talk Kevin will be offering explanations of the following:
Who am I?
How I read your Aura at shows
About Colours & More.
12.00: Carole Catterall ~ Positive Resonance

A demonstration of 'Positive Resonance'
Today's talk is about energy and the human aura, in particular the effects that thoughts, words and emotions have on our energy field; how this impacts the body's meridian and chakra energy pathways; the tissues and organs they feed and ultimately our general health and wellbeing. The talk will be followed by a fun, interactive session - involving a set of dowsing rods, and some very simple actions carried out by a few willing members of the audience – to demonstrate the effects of this energy in action. Join Carole, for this interesting and enlightening session!
1.00: Chistina Warr ~ Forever Living

Forever Living - Looking after your Health and Wealth.
At a crossroads in your life? Wondering what your future holds?
Come and see how you can take back control of your life and what the Forever Living Network can offer you.
2.00: Alan Wood ~ Native American traditions

Alan has travelled extensively visiting Native American sacred sites, reservations, meeting and spending time with the people and gaining an understanding of their history and culture. In his talk Alan discusses the following:
- Smudging - What is Smudging? and why it is practiced.
- What Shamanism is & the different cultures that practice
- Alan's personal Journey with spirituality & Shamanism .
Alan will also talk a little about Native American people, their cultures & the difference between the different lifestyles they have .
3.00: Grace Bowker ~ Central Wellness Yoga Studio

Mindfulness Meditation
Saturday 2 June ~ Room 4:

1.00: Leigh Knowles ~ Soul Architect

Finding your Soul Purpose
Ever wondered what your soul purpose is in life and why you are here? Come and find out about how you can work towards fulfilling your soul's journey and how Soul Coaching can help you, in this lifetime. With a mini demonstration to one lucky audience member, we will find out your Worldly Challenges and look at your Soul Quintessence.
2.00: Debbie Taylor ~ Isagenix

How to Fight off the Aging Process with Nutrition
Sunday 3 June ~ Room 1:

11.00: Jurga Proudlove ~ doTERRA

"Learn how to manage your mood, emotions and hormones with the Nature's Fragrant Pharmacy - doTERRA's Certified Pure Therapeutic Grade Essential Oils.
Do you feel like you are on a huge rollercoaster when it comes to your moods and emotions?
Would you like to feel more in control of your emotional health?
Would your children and family benefit from you having more balanced hormones?
Would you prefer to feel more level-headed at work as well as at home?
At this talk you will learn how we can tap into nature to help manage our moods, emotions and hormones in a more natural way with the help of plant power.
12.00: Claryn Nicholas ~ Certified Health Coach

Calm Mind, Healthy Body: Taking inspired actions to transform your life
Topics for discussion:
Knowing your needs
Goal setting
What is your reality?
Letting go of the ego
The 'will' in action
1.00: Emma Gowshall ~ Animal Communication

Acupressure and alternative therapies for pets
Learn how acupressure and muscle release can make a tremendous difference for animals from treating old ages, aches and pains to agility injuries. Alternative therapies including coconut therapies and how adding to your dogs diet can alter their health inside and out.
2.00: David Albans ~ Journey Into Wholeness
3.00: Teri Clayton ~ Rooted in Simplicity
The importance of our gut and the soil.

4.00: Barrie John Medium
'Can you feel it?'
Join Barrie John as he takes you through the steps of developing your Psychic abilities and proving that you can do this too. This will be an interactive talk with public participation were you will be giving mini Psychic readings, please note that this workshop will also touch on Mediumistic abilities. So feel free to bring along your questions reading for the Q & A session, and join in.
Sunday 3 June ~ Room 2:

11.00: Don Harradine ~ Qi Gong Workshop

Practical Insight into the Chinese Internal Arts
12.00: Brigitte Rix ~ Clairaudient Medium, Spiritual Teacher, Channelling Author of 5 published books, channelled from High Dimensions of the 'Spirit World'

The secret way to deal with your Fears, Tears, Struggles & Puzzles
This lively, interactive talk gives you the chance to ASK YOUR QUESTIONS to medium Brigitte 'The Afterlife French Lady' :
Such as, are you:
- struggling with the loss of a loved one?
- wondering whether they could give you 'a sign' they are ok?
- challenged by health troubles?
- wanting to improve links with a difficult person?
- worried by imminent dangers and shortages world-wide?
- troubled by revelations from whistleblowers?
- puzzled by orbs, premonitions and paranormal happenings?
- wishing you could unfold psychic abilities?
1.00: Philip Underwood ~ The Anahata Centre

Accessing Higher States of Consciousness
In the 1980's Philip spent thousands of hours meditating and accessing higher states of consciousness whilst on a five-year retreat from our commercial world. Since then he's been teaching others how to access them and what to expect when they do. Warning - accessing higher states of consciousness can seriously improve your life!
2.00: Campbell Wallace ~ author 'Second Chance'

3.00: Darren Stanton ~ Body Language Consultant

Introduction to Body Language
Darren introduces the audience to tips and techniques to help you in your workplace or family life.
Visitors who wish to receive updates can add their name and contact details to the contact list - Click the highlighted link.